To link with Fr. Kevin's homilies for the coming year (Year B) please click here


FOURTH SUNDAY of EASTER (22nd April 2018)

A reading from the holy Gospel according to John 10:11-18
"I am the good shepherd. The good shepherd lays down his life for the sheep. The hired hand, who is not the shepherd and does not own the sheep, sees the wolf coming and leaves the sheep and runs away-and the wolf snatches them and scatters them. The hired hand runs away because a hired hand does not care for the sheep. I am the good shepherd. I know my own and my own know me, just as the Father knows me and I know the Father. And I lay down my life for the sheep. I have other sheep that do not belong to this fold. I must bring them also, and they will listen to my voice. So there will be one flock, one shepherd. For this reason the Father loves me, because I lay down my life in order to take it up again. No one takes it from me, but I lay it down of my own accord. I have power to lay it down, and I have power to take it up again. I have received this command from my Father."

THE GOOD SHEPHERD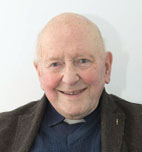 There's a lovely story told about a schoolteacher who asked her class of nine and ten year olds to bring to school some symbol of the resurrection. They were each given a plastic egg in which they were asked to enclose the small symbol. As the eggs were subsequently opened to reveal their contents, one child chose a small spring flower, symbol of new life. Another egg contained a nail, a reminder of the nailing to the cross, another a small stone a symbol of the stone over the burial chamber. Then a boy, Bernard, presented his egg but there was nothing inside. The teacher, thinking he had forgotten to place his symbol, asked if he had perhaps omitted to insert it. Bernard explained that in fact the egg itself was the symbol – the empty shell was in fact symbolic of the empty tomb! Jesus had risen!
Today we are going to consider another image of the Saviour – the good Shepherd, who laid down his life to save us with his risen life. Ancient shepherds had to work hard at looking after their sheep. They had no horse or dog or shotgun to ward off wolves – all they had was themselves. This made their work dangerous. Take David for example – the young shepherd. David took care of his father's sheep and anytime a lion or a bear carried off a lamb, he would attack the predator and rescue the lamb. But the danger to the ancient shepherd's life was not only from wild animals but also from outlaws and rustlers. There's an account of some Bedouin rustlers who attacked a sheepfold near Mt. Tabor. The shepherd didn't flee but fought back to save his flock but he paid by laying down his own life for his sheep. The ancient shepherds' dedication to their flocks inspired the biblical writers to speak of God as a shepherd – God's dedication to Israel was like that of a shepherd. And so the Psalmist sings, "The Lord is my shepherd, I have everything I need, even though I go through the deepest darkness, I will not be afraid' (Psalm 23: 1, 4).
Since the religious leaders of Israel took God's place on earth, they too were referred to as shepherds. Unfortunately with the passage of time Israel's religious leadership deteriorated. When this happened the prophet Ezekiel spoke out in God's name, saying, 'You are doomed, you shepherds of Israel, you take care of yourselves but never tend to the sheep….you have not taken on the weak ones, healed the ones who are sick, bandaged the ones who are hurt, I will give them a king like my servant David to be their shepherd, to be their own shepherd, and he will take care of them; (Ez. 34).
It is against this background that we read today's Gospel (John 10:11-18). Jesus says, 'I am the good shepherd who is willing to die for the sheep….they will listen to my voice and they will become one flock and one shepherd'. In other words Jesus is the fulfilment of the prophecy made by Ezekiel. Like the good shepherd David, he cares for the weak and helpless, heals the sick and goes out in search of the stray and the lost. Jesus lays down his life for his sheep, rises from the dead and shares his own risen life with his sheep.
What should our response be to all this? I think it should be one of gratitude to Jesus that through his death and resurrection we have been saved from eternal death and raised up to eternal life. Also our response should be one of profound openness to Jesus; for Jesus is present in our midst right now, continuing his work of salvation. He continues, through us to care for the weak, heal the sick, bandage the wounded, bring back the stray and seek out the lost. Jesus is indeed the Good Shepherd promised by God. He laid down his life for us over 2,000 years ago, but also continues to live among us and communicate to us his own risen life.
Kevin Lyon
Archdeacon of Glendalough