FIRST SUNDAY OF ADVENT (Year C) 28th November 2021

A reading from the Holy Gospel according to Luke 21:25-28, 34-36
[Jesus said to his disciples]: "There will be signs in the sun, the moon, and the stars, and on the earth
distress among nations confused by the roaring of the sea and the waves. People will faint from fear
and foreboding of what is coming upon the world, for the powers of the heavens will be shaken. Then
they will see 'the Son of Man coming in a cloud' with power and great glory. Now when these things
begin to take place, stand up and raise your heads, because your redemption is drawing near."
" Be on guard so that your hearts are not weighed down with dissipation and drunkenness and the
worries of this life, and that day catch you unexpectedly, like a trap. For it will come upon all who live
on the face of the whole earth. Be alert at all times, praying that you may have the strength to escape
all these things that will take place, and to stand before the Son of Man."


THE COMINGS OF THE CHRIST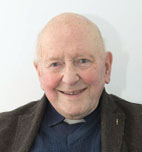 When we think of the end of the world, we often focus on disaster and loss of judgement. But the end of something can also be the beginning of something new and life giving. As one author expressed it: 'What the caterpillar calls the end of the world, someone else terms a butterfly'. Advent reminds us to be alert and to be prepared all the time, for God can break into our lives at any moment. Advent also affirms that a crisis can mean breakthrough as well as breakdown. The birth of God in Jesus is the beginning of our own rebirth into life with God.
With the season of Advent, a new liturgical year begins, Year C of the three-year cycle or as some liturgists call it – The Year of Luke – that Evangelist's Gospels being used extensively on Sundays throughout the year. It is a year when we are called to look back with gratitude on all that has been and to look forward with hope to what will be – 'a towering miracle of God's visit to this planet'. Born of Mary from the line of David, God has come to us in the person of Jesus. He is referred to as the 'just shoot' celebrated by the prophet Jeremiah in the first reading. Through his words and works, Jesus has established God's justice on earth. All who believe and are bound to God in love and hope are also bound to one another. Those so bound, insists Paul, are to increase in love for one another and for all people – to conduct themselves at all times in a manner that honours God and God's greatest gift to humankind, Jesus Christ. Our rejoicing in the fact that God has actually been here is half the meaning of Advent. The other half focuses our attention on the second coming of Christ, which is described in today's Gospel (Luke 21: 25-28, 34-36). Although the language is symbolic and quite vivid it instils in us a sense of the suddenness of the end. When God appears in power and glory, illusion will give way to reality and the king will be seen for who he is. We for our part are to be vigilant at all times and to,mpray for strength. Our annual remembrance of the incarnation (Advent) celebrates God's desire to= become immersed in every aspect of the human experience and in our response – we will find Christ.
Mother Teresa recognised and welcomed Christ in the needy, the hungry, the homeless and the forgotten. Jesus' words about serving his needs in God's poor ones were seared into her soul. She was one of those rare figures that can shine a new light on Gospel teachings and actually live according to Jesus' word and example. We can emulate her example. Mother Teresa was certain that prayer could be the powerhouse of our lives. Through prayer, she said, one could recognise and serve Christ in his many comings among us. Of course, we cannot force these moments, all we can do is to be prepared.
One saint said that life should be lived in 'attentive expectancy', the way one waits for the phone, for your child, or a spouse or the doctor to call. We cannot make that call ourselves. All we can do is to be ready, and as Hamlet said, 'The readiness is all'.
Kevin Lyon
Archdeacon of Glendalough