To link with Fr. Kevin's homilies for Year B please click here


The Baptism of the Lord (Year C) 13th January 2019

A reading from the holy Gospel according to Luke 3: 15-16, 21-22
A feeling of expectancy had grown among the people, who were beginning to think that John might be the Christ, so John declared before them all, "I baptise you with water, but someone is coming, someone who is more powerful than' I am, and I am not fit to undo the strap of his sandals; he will baptise you with the Holy Spirit and fire,"
Now when all the people had been baptised and while Jesus after his own baptism was at prayer, heaven opened and the Holy Spirit descended on him in bodily shape, like a dove, And a voice came from heaven, "You
are my son, the Beloved; my favour rests on you."


THE GIFT OF BAPTISM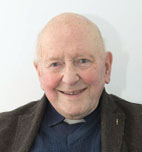 The baptism of Jesus is a wonderful feast, in the simple words of Luke's Gospel we see the Christ who was promised, praying in the waters of the Jordan River when the heavens opened to reveal Jesus as part of the Trinity with him the voice of the father and the descending spirit uniting them all in love.
At first glance, the scene makes little sense, People of all shapes and sizes flocked to John in the water. They are baptized in the Jordan as a sign of repentance and cleansing. Suddenly, out of the crowd steps John's cousin, Jesus. Wait a minute. What's Jesus, the sinless one, doing in a crowd of repenting sinners? What's He doing coming forward to be baptized by John, who is by his own admission, inferior to his cousin? Jesus does not enter the water to be sanctified. No he enters the water to sanctify. He empowers the water to become no longer just an outward sign, but a vehicle of the Holy Spirit bringing inner cleansing, rebirth, and transformation. Here Jesus institutes the sacrament of Christian baptism, something essentially different and greater than the baptism of John, which foreshadowed it.
Jesus's baptism was literally a watershed in his life. From it all his mission flowed, until that day when the veil of the Temple rent in two as he gave, his life up for us on the Cross and rising from death revealed the Resurrection. It is the prototype of our baptism, in The waters of the font we die to sin and receive the life of Christ, we truly become Children of God and, anointed with Holy Chrism, receive the life giving Spirit.
Immediately after coming out of the water, the spirit descends upon him in the form of a dove. Now another Sacrament is instituted by Christ, the sacrament of confirmation. In confirmation we receive our own mission and the power to carry it out. For being a "Christian" is not about just "being saved". It's about sharing in Christ's anointing to transform the world. The mission is an essential part of the package, not an option. That's why we are called "Christians" or anointed one. It is not just priests and religious who are supposed to make it happen. Every single one of us is called and anointed. And that's why confirmation, together with Baptism and First Holy Communion, is one of the essential sacraments of initiation.
The question for those of us who have received these power-packed sacraments is this - what are we going to do with them?

Kevin Lyon
Archdeacon of Glendalough