To link with Fr. Kevin's homilies for the coming year (Year B) please click here


SIXTEENTH SUNDAY IN ORDINARY TIME (22nd July 2018)

A reading from the holy Gospel according to Mark 6:30-34
The apostles gathered around Jesus, and told him all that they had done and taught. He said to them, "Come away to a deserted place all by yourselves and rest a while." For many were coming and going, and they had no leisure even to eat. And they went away in the boat to a deserted place by themselves. Now many saw them going and recognized them, and they hurried there on foot from all the towns and arrived ahead of them. As he went ashore, he saw a great crowd; and he had compassion for them, because they were like sheep without a shepherd; and he began to teach them many things.

SHEEP WITHOUT SHEPHERDS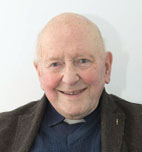 Mother Teresa tells how one day she visited an old people's home in Sweden. It was efficiently run. The food was good, the staff was well trained and treated the patients well. It seemed like an ideal place to end one's day. There were about forty elderly men and women in the home. They seemed to have everything they wanted. Yet, as she went around she noticed that none of them smiled. She also noticed something else – they kept looking towards the door and she asked one of the nurses why this was so. 'They are longing for someone to visit them' the nurse replied. 'They are always looking and thinking, maybe my son, maybe my daughter, maybe someone will come to visit me today – but no one comes. It's the same every day'. 'No one comes' - the words haunted Mother Teresa. These elderly people had been put away in this home by their families and then abandoned. That sense of being abandoned was by far their greatest suffering. Sometimes a person may have no choice but to place an elderly parent in a home. However, it's the spirit in which this is done that matters. Having put an elderly parent in a home one person may abandon that person, whereas, another visits regularly. A Christian who doesn't care is like a lamp that doesn't give light. Caring is never easy, yet all of us are capable of caring, all that is required is an open heart. When we care we are living the Gospel.
Jesus in today's Gospel is the image of a shepherd caring for the crowds that followed him – 'they were like sheep without a shepherd' (Mark 6: 30-34). The Bible reflects this shepherd ideal as the blueprint of God's appointed leaders who were to look after their people. In our first reading today (Jer. 23: 1-6) we see the Lord condemning those shepherds who have not cared for their flock but have allowed them to scatter and be destroyed. The Lord says that he will raise up true shepherds who will properly pasture his sheep.
In today's Gospel from St. Mark which is the conclusion of the passage begun last week, we see the twelve returning to Jesus after they have been preaching in his name and they return rejoicing. They go off to be alone and to rest, but the people follow them because they went to hear more about this carpenter from Nazareth and his message. Jesus takes pity on them and teaches them himself. So intent is he on imparting his message to them that Jesus skips lunch – 'no time even to eat'. He is the good Shepherd who cares for his flock, feeding them with the words of salvation.
Times have not really changed. The World today badly needs those who will preach Christ's message of redemption. As baptised Christians we are all commissioned to go out and preach the Good News of the kingdom in word and in the example of our lives. There are so many out there in Ireland today whose families have forgotten about Jesus Christ or have not really come to know him. Each of us is invited to bring our fellow men and women to the truth and knowledge of God.
Paul today tells us that Christ is the link that joins so many people together in peace. All who believe in him, regardless of colour or nationality, have a place in the kingdom and so are all brothers and sisters in the eyes of God.
Perhaps a prayer from the Psalter, Christ's own prayer book, puts it well:
' This world is yours Lord, we are all one in the mould of your fashioning. You gather together the children of every race. All bonded in birth as brothers and sisters. Grant us a truly compassionate spirit to love every person, respect all people, your presence living in the hearts of all. Strengthen our roots, deepen our sources, and knit us together as allies to all humankind'. 'Place a mark Lord, in your register of peoples – all find a home in me' Psalm 87:7.
Kevin Lyon
Archdeacon of Glendalough