SECOND SUNDAY OF ADVENT (10th December 2017)

A reading from the holy Gospel according to Mark 1:1-8
As it is written in the prophet Isaiah, "See, I am sending my messenger ahead of you, who will prepare your way; the voice of one crying out in the wilderness: 'Prepare the way of the Lord, make his paths straight,'" John the baptizer appeared in the wilderness, proclaiming a baptism of repentance for the forgiveness of sins. And people from the whole Judean countryside and all the people of Jerusalem were going out to him, and were baptized by him in the river Jordan, confessing their sins. Now John was clothed with camel's hair, with a leather belt around his waist, and he ate locusts and wild honey. He proclaimed, "The one who is more powerful than I is coming after me; I am not worthy to stoop down and untie the thong of his sandals. I have baptized you with water; but he will baptize you with the Holy Spirit."
JESUS, THE PHOTOGRAPH OF GOD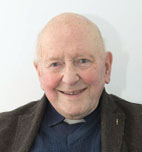 Our God is a God who is coming. God does not avoid humankind but comes to be among us. Isaiah the prophet in the first reading comforts his exiled contemporaries with the good news that God is coming to their rescue. He will bring healing and forgiveness and with a shepherd's care will round them up and lead them home (Isaiah 40). The exiles became aware that even in the pain and shame of their struggle, God saw, God cared and God was near. They for their part, were to hold fast to their faith and trust that the prophet's words would be realised.

Reading between the lines of Second Peter (Second Reading) we might hear the sacred author say; 'If you knew for certain that Jesus was coming tomorrow, what might one do to get ready?' Take that agenda and make it your own today.
In today's Gospel (Mark 1:1-8), John the Baptist is featured as one who took the necessity of being prepared very seriously. John purposefully alerted others to the coming of Jesus and urged the people to prepare a way for him in their hearts and lives. John became a living lesson in being prepared and his example prompts us to consider our own level of preparedness for the God who comes. God comes to us, said the Spanish mystic St. Teresa of Avila, even in our pastimes and pleasures, even when we are falling into sins and rising from them again. God comes to us in the conversations of good people and through the reading of wholesome books. God comes to us through wickedness and trials and in prayer, however limp and feeble that prayer might be. God comes to us through the lives of those in whom we discern beauty and truth. Love comes to us in the love of another who loves us so deeply that we dare to accept our own loveableness. There is no limit to the ways that God comes and for that reason, every aspect of our lives can be a place of encounter with the divine.

During the Season of Advent and Christmas, believers celebrate in a special way the ultimate encounter with God in the coming of Jesus. Nothing could replace Jesus and his mission. Through Jesus' words and works, we come to know God's will and God's ways. In Jesus we see God's holy face. The Jesus of the Gospel gives us as it were, a 'photograph of God'! We who await the coming of God imagine ourselves as cameras that desire to fix inside ourselves what we see in the Gospels and so, make a photograph of our own. In order to do this, we rely on the Holy Spirit, who is love and who alone is able to develop that photograph in our hearts in proportion to our desire to know and love the God who comes.

We pray that the Lord in his kindness
will bless all the people who blessed us
with their encouragement and support,
all those who helped us become who we are. Amen.

Kevin Lyon
Archdeacon of Glendalough