To link with Fr. Kevin's homilies for the coming year (Year B) please click here


SECOND SUNDAY OF THE YEAR (14th January 2018)

A reading from the holy Gospel according to John 1:35-42
The next day John again was standing with two of his disciples, and as he watched Jesus walk by, he exclaimed, "Look, here is the Lamb of God!" The two disciples heard him say this, and they followed Jesus. When Jesus turned and saw them following, he said to them, "What are you looking for?" They said to him, "Rabbi" (which translated means Teacher), "where are you staying?" He said to them, "Come and see." They came and saw where he was staying, and they remained with him that day. It was about four o'clock in the afternoon. One of the two who heard John speak and followed him was Andrew, Simon Peter's brother. He first found his brother Simon and said to him, "We have found the Messiah" (which is translated Anointed). He brought Simon to Jesus, who looked at him an said, "You are Simon son of John. You are to be called Cephas" (which is translated Peter).
COME AND SEE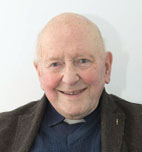 Most of us who were baptised as infants cannot remember the moment of our baptism. Fortunately, we have an abundance of symbols and rituals to anchor us in our 'baptismal memory'. When we pass by the baptismal font in our Church we can 'remember' our baptism. Anytime we have the pleasure of being in the congregation at a baptism ceremony we can 'remember' our baptism. We can look at photographs or take out the family christening gown or baptismal candle to have a visual reminder of our initiation into the Christian faith. But most significantly whenever we turn to one of the Gospel
passages that tell the story of Jesus' baptism we can 'remember' our baptism in an especially powerful way.
Jesus comes to the Jordan, is baptised by John and everything changes. The sky breaks open. The spirit comes, announcing the fulfilment of the prophetic promise for which the people of Israel were waiting. And when we are baptised the same thing happens - the spirit comes down and makes itself known, claiming us as children of God and calling us to anchor
ourselves in God's love.
The fact of our baptism ought to have continuing significance and impact upon our lives. It ought to be a continual source of strength and comfort. Baptism isn't just a one-off event but an ongoing reality. We have a new identity in Christ. Every day we are to live out the meaning of our baptism. To say 'I belong to God' is to find new strength to meet the difficult situations life presents us with. To remember our baptism is to gain a new sense of personal responsibility for our lives - we are accountable to God for
the life we live.
The simple act of entering a Catholic Church and blessing ourselves with water from the font at the entrance is a way of remembering our baptismal commitment - in the name of the Father, and of the
Son and of the Holy Spirit. We remember who we are as we enter God's presence. And it makes even
more sense to put water on our foreheads as we leave the Church and go out into the world - for there
the battles are fought. This is a month in which many of us are feeling overwhelmed. In January, the
holidays are over and the bills are looming. Some people are dealing with a variety of post-holiday
emotions; others already feel that they have failed in their new year's resolutions. The message of Jesus'
baptism and a reminder of our own is needed at a time such as this:
" Lord we are yours, help us to know it, to know it in the depth of our hearts and to act accordingly,
Through Christ our Lord. Amen'.
Kevin Lyon
Archdeacon of Glendalough